The Road To 2016
Welcome to: Chesterfield, VA
Home of:
C.J. Stancil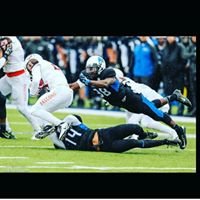 ​
2016 UB Football Begins in 55
Year: Senior
Position: Linebacker
High School: Cosby
501 Miles from UB Stadium
Last Year: Last year Stancil was mainly a special teams player, appearing in all 12 games. On the season he had eight tackles and a forced fumble, against Albany.
Stancil is expected to be a depth linebacker but may contribute on special teams.