There are times when I watch football and I think "They have taken all the fun out of this game". It started with things like the"In the grasp rule" and the elimination of the 5 yard face mask. This tread has walked its way towards turning football into fublol.
That being said we can all support the rule that prohibits a player from intentionally using their helmet as a weapon. Washington's Brandon Meriweather took such a shot at Green Bay running back Eddie Lacy in the first half of yesterdays game. He gave Lacy a concussion and that put James Starks in the game.
Starks became the first Packers back to put up more than 100 yards in well over a year. The all time leader for Buffalo put up 132 yards on 20 carries including a nice 32 yard touchdown scamper.
More than the stats though yesterday made James Starks the enforcer of football justice. When Meriweather turned his attention, and his helmet, to Starks the Packers backup responded by putting his head down and leveling the defensive back. This time Meriweather had given himself a concussion.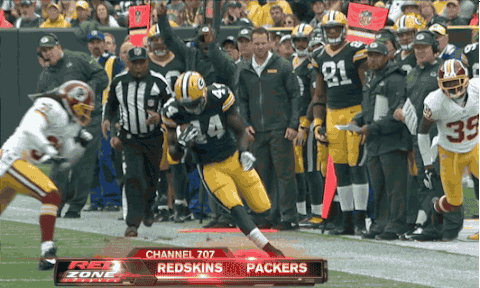 Redskins vs. Packers Final Score: Green Bay Cruises to 38-20 win - Acme Packing Company
Eddie Lacy was knocked out of the game after his first run from scrimmage when Washington's Brandon Meriweather went helmet-to-helmet on Lacy. Lacy was ruled out of the game with a concussion. Karma would quickly return the favor, as Meriweather would be knocked out of the game later in the half when he tried to go helmet-to-helmet on James Starks and lost that battle.
While Starks was dealing out justified boo-boos another UB Alumni was sadly on the receiving end.
Josh Thomas suffered a concision during the second quarter of the Panthers game against the Buffalo Bills.
Panthers 23, Bills 24 Recap: Another Late Game Meltdown - Cat Scratch Reader
All in all, this was the worst case scenario for the Panthers and all their fans. Not only was this another late game loss, but injuries were suffered by Charles Johnson, Josh Norman, Mikell, and Josh Thomas. And they head into a huge game next week against the New York Giants, who pummeled them last year, before the bye week. Even for the most optimistic of Panthers fans, hope looks dim for this season.
The only other UB Bull to see action was Trevor Scott who had two Solo tackles yesterday for the Tampa Bay Buc's