Every week Bull Run searches high and low, near and far, up and down, left and right, forwards, and backwards, inside and out (don't ask) to bring an interview with our opponents 'Super Fan'. What's a super fan? Simple a super fan is a person, group, imaginary creature that bleeds their teams colors no matter how bad their fortunes might be.
Finding famous fans of an FCS school, especially a struggling one can be difficult. Unfortunately I was lost in thought about it when I was driving home, through construction, and got pulled over by this guy.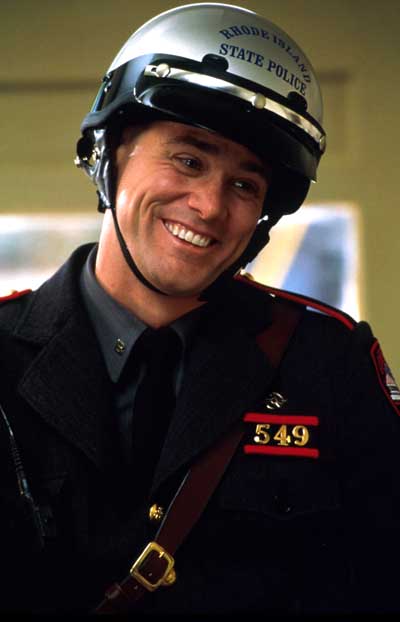 Aside from the hundred dollar ticket this was the best way this weeks interview could have worked out. You see Charlie Baileygates is one of Rhode Island's most illustrious law enforcement officers. He also happens to be a huge Rhody fan. So while he was writing up my ticket I took the opportunity to ask him a few questions. It was 'wierd'...
Bull Run: So Officer Baileygates, I heard Rhode Island is moving their football program to the NEC, how are you feeling about the move?
 I just took one on the chin
Charlie: Who likes to see their program down? Sure we've been vastly outmatched for years in CAA but if Buffalo could cling on the underbelly of the MAC for the better part of ten years why can't Rhode Island hang with CAA?
I understand that we were bleeding money, and bleeding money for athletics is not exactly popular but the NEC? seriously?
I suppose I should be content that unlike those pansies at North Eastern and Hofstra we did not completely pack it in but trading CAA for the NEC does not help a program already struggling to find some excitement.
Bull Run: Well there was some excitement when you brought in Coach Trainer.
I was "Excited"
Charlie: Coach Trainer was a great pull, not only did he have experience at some successful CAA programs, he coached for Temple, and he has some head coaching experience. When I first saw his resume my heart skipped a beat.
Bull Run: Well Getting past the political and financial aspects of college football what are you looking for out of this game?
Ever been B!7CH slapped?
Hank: I don't care how many scholarships you have, and I don't care if kids would rather play at an FBS school, even Buffalo, then at a fine institution like Rhode Island. We've got our fist and when we start swinging them around that's all we need.  
Bull Run: Come on hank, even my daughter knows better than to expect the Rams to present any real contest. Sure there is the whole 'any given Saturday' side of things but Rhode Island can't even compete at the FCS level.
Let me 'discuss this with your daughter'
Hank: I don't care what that brat says, The Rams are going to bring a world of hurt to Amherst this week. BTW your smart @55 daughter just earned you 50 more dollars on your ticket.
Bull Run: Thanks for the interview but before you let me go may I ask if you're going to the game?
Charlie: No, I'm going to stay home and watch it with the kids. They are all die hard Rhode Island Basketball fans and I am trying to get them into football. After all soon we will have day trips to Albany.