When you hear sports commentators talk about College Football tradition you rarely hear anyone mention Buffalo. Despite having a relatively low profile Buffalo has a lengthy football history. Recent fans, among which I would probably qualify, usually don't know the full scope of UB's history. So in the run up to kickoff I will be doing a series of 14 post about the history of the program you'll be a Bull Run certified UB fan ;)
Section One: In the beginning
Cliff Notes 1894-1903:
UB President when the team was founded: 

Eben Carleton Sprague

Teams First Name: UB Bisons

UB's first Coach (1897) C.W. Dibble, Record 7-0

Teams Founding Members: 

T.C. Moore and A.B. Stein.
First Home Playing Field Field: A Baseball field on East Ferry
First Practice Field: Brown's Riding Academy, East North street
Record Against Current BCS Programs: 4-1-1 (1-1 against the Big 10, 4-0-1 Against the Big East)
UB Lost a game to Michigan 128-0 During the Pan American Exposition of 1901
A team of Doctors: What's up Doc's?
In 1894 fourteen UB Medical students got together and decided to start a football team (Back then UB only had schools of Medicine, Dentistry, Law, and Pharmacy). The team was the first product of the newly formed UB Athletics's association. UB was, at the time, restricted to its current south campus site, while the administration allowed the team to use on campus facilities for games the team had to goo off campus for practice.
So when they had completed their classes the team would take off to one of two riding academies in the City (Yes Buffalo used to have horse riding academies within the city limits). One of the sites, Brown's Riding Academy was near War Memorial Stadium later dubbed "The Rock Pile". Practicing on the same plot of land on which horses practice led to certain, challenges, such as avoiding "remnants of horses that grazed their practice pastures" (from a 1996 football program).
The team fielded a 0-1-1 record recording a loss to Hobart College (12-6) and a tie with the University of Rochester. With just 14 members most of the players had to play both sides of the Ball and were led by Player Coaches T.C. Moore and A.B. Stein. J.B. Crofts, Irving Johnson, William Potter, Gray McCuthcheon, St. John Green and "Dinky" Johnson were the other founding members of UB Football
UB Lettermen from 1894-1904
William Bolt, 1895-97
Julius Cohen, 1897
John Crane, 1897
Joseph Alpart, 1897
Stewart Baggley, 1897
Robert E. DeCue, 1898-1902
James Gordon, 1897-98
Charles Hasse, 1898-1901
Charles Farr, 1897
Richard Meyer, 1897
Irving Johnson, 1896
Charles LaBorne, 1897
Ernest White, 1897-1898
Seth Thomas, 1897-1900
R. Vorhis, 1897
The team would excel starting in 1897 when C.W. Dibble would lead UB to a perfect record. The assent of UB football led to an unexpected level of local popularity. The team needed to play some games at the Rock Pile.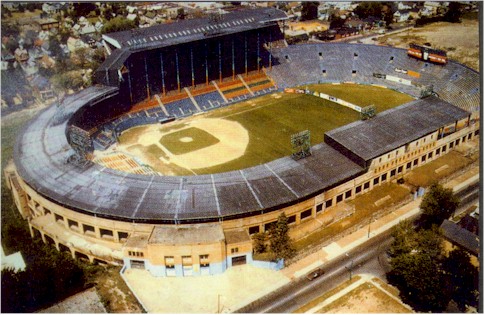 The Rockpile in all its splendor, I remember going
to AAA baseball here
The program had grown to such notoriety that they drew Michigan for an exhibition game to celebrate the Pan American Exposition in 1901. A game in which Media, and UB Players, alike thought would simply be another feather in the cap for a program on the rise. Michigan had other ideas
"Buffalo University came to Michigan with a much-heralded team. They were coached by a Dartmouth man and had not been scored upon. Buffalo papers referred to Michigan as the Woolly Westerners, and the Buffalo enthusiasts placed bets that Michigan would not score." -- Coach Yost
Behind the leadership of Coach Yost and Albert Herrnstein the Wolverines hammered UB by an embarrassing 128-0. If that score looks bad to you today consider the scoring system in 1901.
College Football Scoring
| Years | TD | FG | Conv | Safety |
| --- | --- | --- | --- | --- |
| 1883–1897 | 4 | 5 | 2 | 2 |
| 1898–1903 | 5 | 5 | 1 | 2 |
Michigan scored 22 touchdowns, and eighteen extra points during their drubbing of the then UB Bisons. It was so bad that UB self imposed a mercy rule by quitting with 15 minutes left in the game. 
The loss to Michigan put the breaks on community support around the team, despite a respectable decade (1894-1903) for UB football, including marquee victories over future football powers Penn State and Syracuse there was not enough interest to keep the program going after 1903 so the team disbanded for more than ten years and would never again be known as the Bisons.
UB Football games 1894-1903:
1894 (0-1-1)
UB 6 Hobart 12, UB 0 at Rochester 0
1895 (0-1-1)
UB 4 Rochester 6, UB 6 Rochester 6
1896 (1-0-2)
UB 6 Syracuse 6, UB 6 Hobart 6, UB 6 St. Bonaventure 5
1897 (7-0-0) Coach - C.W. Dibble: 
UB 16 Hamilton 6, UB 32 Niagara 0, UB 26 Union 0, UB 16 Western Reserve 6, UB 16 Syracuse 0, UB 10 Syracuse 0, UB 28 Hobart 0
1898 (4-1-0)
UB 12 Rensselaer 5, UB 0 Cornell 27, UB 29 29 Case Tech 0, UB 23 Colgate 0, UB 36 Bucknell 5
1899 (6-0-0)
UB 6 Rochester 0, UB 18 Case Tech 0, UB 16 Syracuse 0, UB 51 Hobart 0, UB 5 Western Reserve 0, UB 30 Bucknell 0
1900 (1-1-2)
UB 0 Western Reserve 0, UB 0 Case Tech 0, UB 10 0 Columbia 17, UB 10 Penn State 0
1901 (4-2-0)
UB 6 Western Reserve 17, UB 6 Case Tech 0, UB 5 Columbia 0, UB 5 Oberlin 0, UB 16 Lehigh 0, UB 0 Michigan 128
1902 (2-4-1)
UB 0 Bucknell 29, UB 0 Columbia 5, UB 0 Hobart 0, UB 0 Western Reserve 22, UB 6 Rochester 0, UB 0 Alfred 12, UB 28 Niagara 0
1903 (3-3-0) Coach: Ray Turnbull
UB 0 Hobart 12, UB 0 Rochester 47, UB 10 Niagara 8, UB 17 Niagara 6, UB 0 Allegheny 23, UB 14 Westminster 0