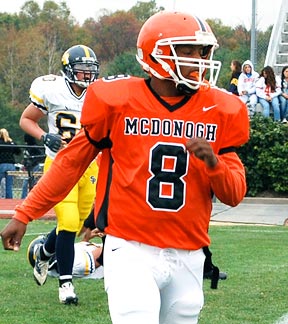 The
first ever article published on Bull Run
was about the Commitment of Rudy Johnson. UB fans have kept a close eye on him through the season and through the Buffalo coaching changes. Turner Gill's MO as a recruiter at UB was to nail down the marquee quarterback of each recruiting class early (usually first) and in 2009 he got Rudy to commit way back in July.
Johnson had a phenomenal year for McDonogh, leading his team into the state playoff and landing himself on the Maryland Crab Bowl. The Senior who had once played as a defensive back the for nearly 2,000 yards and rushed for 500 more in his Junior campaign, his heroics in week 8 led
ESPN to name him the Maryland High School player of the week
.
I asked Rudy if he would be up to answering some questions for UB nation and he was kind enough to take me up on the offer.
---
Bull Run:
You committed to Buffalo very early in the season, and you did so when other schools like BC and Virginia had expressed some interest. Now that Turner Gill has moved onto Kansas what are your thoughts on Coach Quinn and the staff he is starting to build?
Rudy Johnson: I am very excited about coach Quinn and the new staff. the first person I met from the staff was coach Forest who is the quarterbacks coach. he came by last week and he was a very nice guy. he talked about the offense and it seems like it will be very exciting to learn and hopefully run some day. Today actually I met coach Quinn and coach shorter the o line coach for the first time. Coach Quinn has big goals for the program and I am looking forward to being part of helping him reach those goals. So far everyone I've met is very nice and I look forward to meeting the staff.
Bull Run:
Looking at the type of offense that Cincinnati ran this season compared to the offense that was being developed at Buffalo which one better suits your strengths?
Rudy Johnson: Both offenses were great but its hard not to be excited about the offense that Cincinnati runs. They run the spread, which is very exciting because that is the offense that Ive run my entire high school career. Also, they allow the quarterback to both run and throw the ball and theres not to much more I could ask for besides that. I feel that the Cincinnati suits my strengths better because being a smaller quarter back it is a lot easier to be back away from the line of scrimmage when receiving the ball. But, in high school we were under center a great deal so I feel I could have fit in either offense.
Bull Run:
How do you think you stack up against Zach Maynard, Jerry Davis and Alex Dennison?
Rudy Johnson: I am not really sure, I know they are all very talented quarterbacks and were developed under coach Barrett and he is a great coach. I'm looking forward to being around them and competing I'm sure I will learn a lot and they will make me a lot better.
Bull Run:
Did you have much of a chance to watch the Bulls play this season? What are your thoughts on some of the returning talent that UB is bringing back on the line and in the Backfield?
Rudy Johnson: I watched the games that were shown on espn. I know that they have had great recruiting classes in previous years and I heard that the class that I will be part of is very talented too. So I would expect that Buffalo will have a very talented team.
Bull Run:
This year's recruiting class is shaping up to be the best, ever, to come to UB. Did you have a chance to connect with any of the other player when you visited the campus? What are your impressions of your future teammates?
Rudy Johnson: On my official I met a few of the players who had already committed I liked everyone I met and know that we will all become a family over the next 4 or 5 years. Everyone was from all over the country and that is good cause I'm excited to meet new people from outside of Maryland.
Bull Run:
Aside from Football what are your impressions of UB and do you have any kind of idea what you want to major in?
Rudy Johnson: I am planning to major in business which is another reason that attracted me to buffalo. as I have been told, buffalo is a top 5 business school in the country so that fits what I want perfectly.
Thank you Rudy for the interview and UB Nation is looking forward to seeing you in the Blue and White come this summer!