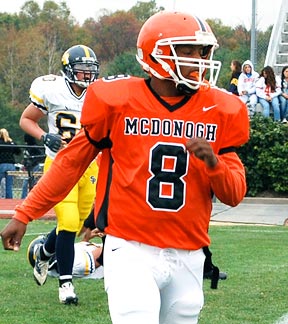 Turner Gill and Buffalo picked up their quarterback of the future a few days ago with a pledge from Owings Mills (Md.) McDonogh quarterback Rudy Johnson. The 6-foot-1, 195-pounder selected the Bulls over interest from a... (
Continued
)
Looks like Turner keeps aiming UB at a spread option offense with another duel threat quarterback here are some
high lights
.
This is a nice recruit that has gotten atterntion from
ESPN
as one of Marylands best prospects.

"Johnson fits what might be called the new model of the quarterback position. Not a straight drop-back passer, he has the ability to escape the pocket either to give his receivers time to get open or to pick up yards by running." -- Mike Loveday
This guy is a prototypical QB for what Turner Gill wants to do and is a great all around athlete
"Johnson runs track in the winter and spring to continue to work on his speed and agility - he competes in the high jump and 4x200 relay. He will also continue work with his trainer and will attend the Nike Baltimore Combine on March 28." -- Mike Loveday

More can be found on
http://www.rudyjohnsononline.com
Yahoo "Johnson on Buffalo"
"Buffalo was my only offer and I knew they were very interested in me," he said. "I had talked to a lot of other schools including Virginia, Boston College and Connecticut, but Buffalo wanted me strictly as a quarterback. I also had a pretty good relationship with my recruiter. I talked to him every week."
"He's a real easy person to talk to," he said. "He's very understanding and didn't want to rush me into a decision. The one thing about him was that I was worried he'd leave and I asked about that. He said it's not just about money, he's dedicated to this program and I felt confident in him."